Biography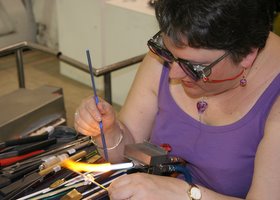 Born in 1962, I started making silver jewellery in 1994. Glass bead making began seriously in February 2003.
I come from a background of craft and technology, which included making clothes and hats in my leisure time, and graduated from Middlesex University in 1984 with an HND in Mechanical Engineering, specialising in production and design. After 15 years working in industry as a designer and project manager I have now opted for family life and the chance to change career direction.
My progression into working with glass comes naturally after my love of glass beads and gemstones, making silver jewellery for several years and a long lasting passion for colour.
I took a 2 day glass bead making starter course in March 2002 thinking it would give me an idea of whether to pursue making my own simple glass beads to incorporate into my jewellery and found myself drawn into the amazing and exciting world of hot glass - which has now completely taken over.
My bead designs are mainly organic incorporating delicious swirls of toning colours and are often inspired by my surroundings. In contrast to this my jewellery designs are mainly geometric and are inspired by the wide variety of patterns occurring naturally and manmade in our environment. I love the natural geometry and symmetry occurring particularly in plants and I am fascinated by the play of light on various manmade structures. I find the rugged Cornish coast particularly inspiring especially the quality of light seen around St. Ives. My popular Porthmeor series of beads is inspired by the view of the Atlantic Ocean from the Tate Gallery St. Ives.
I love the beautiful way the glass behaves, and its unpredictable reactions with other colours demands regular sessions at the torch. I am led by the way the hot glass melts and flows, influencing the design evolution. I have truly found a medium where I can create random designs and one off pieces.

Courses
1984 HND Mechanical Engineering specialising in Production and Design
1994 Enterprise Kickstart
1994 Bridal Sewing Techniques
1994 Lingerie Sewing Techniques
1994, 2001, 2002 Lost Wax Casting
1994 Chain and bead making
1998 Chasing and Repouse
2000, 2001 Anodising Aluminium
1999, 2001 Etching for jewellery
2001 Emphasis on Texturing and Finishing metal jewellery
2002 Glass Beadmaking
2004 Pearl & Bead Stringing
1999 - Present Ongoing attendance at jewellery making course.

2006 Is this Glass? Advanced lampworking techniques with Kate Fowle Meleney. The course covered enamels, vitreous overlay, electroforming and the use of metals
2006 Murrini. Advanced lampworking techniques to make Murrini or face cane with Loren Stump.
2007 Anodising Aluminium
2007 Precious Metal Clay
2007 Dots and Stringer. Class with Dora Schubert
2007 Flameworking & Beadmaking. Techniques to produce off mandrel pieces of glass art in soft glass, covering sculptural techniques to produce small animals, fish and torsos and small goblet blowing. Tutor Julie Anne Denton.
2009 Borosilicate Glass. Class with Gail Crosman Moore.
2010 Kissy Lips and Goblins (Sculptural heads) with Sharon Peters
2010 Advanced techniques with Andrea Guarino
2011 Flameworking the human form with Lucio Bubacco (Maestro from Venice)
2011 City & Guilds Award in Preparing to Teach in the Lifelong Learning Sector (PTLLS)
Exhibitions
Knitting & Stitching, Alexandra Palace, London, Sept 2004
A Taste of Christmas, Patchings Art Centre, Nottingham, Sept 2004 - Jan 2005
Patchings Art Centre, Nottingham, June 2005
Artists and Makers Festival (Open Studios), Worthing, July 2005
Beads Day, Broadfield House Glass Museum, Kingswinford, W. Midlands, Demonstrated bead making. May 2006
Artists and Makers Festival (Open Studios), Worthing, July 2006
Surrey Guild Exhibition, Haslemere Educational Museum, Haslemere, Surrey, November 2006
Contemporary Crafts For Christmas (Surrey Guild), Guildford House Gallery, Guildford Dec 2006

The Jewellers Craft, Horsham Museum, 9 The Causeway, Horsham, January - March 2007
Beads Day, Broadfield House Glass Museum, Kingswinford, W. Midlands, Demonstrated bead making. May 2007
Artists and Makers Festival (Open Studios), Horsham, July 2007
Contemporary Art, Craft & Design Fair,Winchester Cathedral, Hampshire July 2007
Bulles de Perles, creations contemporaines en verre, International glass beads exhibition, Musee du Verre de Sars-Poteries, 1 rue du General de Gaulles, SARS-POTERIES, France July - September 2007
Christmas Show 2x4 Artists, The Drill Hall, Denne Road, Horsham, December 2007

New Members Exhibition, The Surrey Guild Gallery, 1 Mousehill Lane, Milford, Surrey March 2008
Beads Day, Broadfield House Glass Museum, Kingswinford, W. Midlands, Demonstrated bead making. May 2008
Artists and Makers Festival (Open Studios), Horsham, July 2008
Tempest International Invitational Glass Bead Exhibition, Ruskin Glass Centre, Wollaston Road, Stourbridge,West Midlands August - September 2008

Tempest International Invitational Glass Bead Exhibition, Creative Glass in Zurich January to March 2009
A Taste of Things to Come, The Bank Gallery, 73a High St, Chobham, Surrey - May 2009
Horsham Open Studios, West Sussex, June 2009
Contemporary Art, Craft & Design Fair,Winchester Cathedral, Hampshire July 2009
Christmas at Guildford House Gallery, 155 High Street, Guildford Nov - Dec 2009

The Bank Gallery (Surrey Guild Show) 73a High St, Chobham, Surrey - May 2010
Horsham Open Studios, West Sussex, June 2010
Christmas with Surrey Guild, Guildford High Street, Surrey - December 2010
The Bank Gallery, 73a High St, Chobham, Surrey - Winter Exhibition Dec 2010 - Jan 2011
Tempest International Invitational Glass Bead Exhibition, Immenhausen Glass museum, September 2010 January 2011

Horsham Open Studios, West Sussex, 18th/19th and 25th/26th June 2011
Gallery at The Capitol, Horsham, West Sussex, September - October 2011
Society membership

Surrey Guild of Craftsmen
GBUK - Glass Beadmakers UK

ISGB - International Society of Glass Beadmakers

The Bead Society of Great Britain
SRA D14 - member of Self Representing Artists Scheme for Glass Beadmakers
---