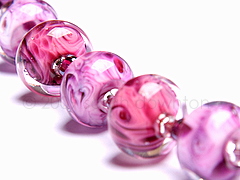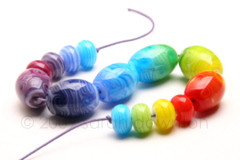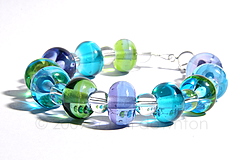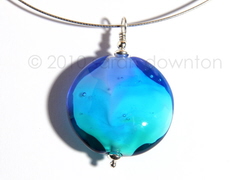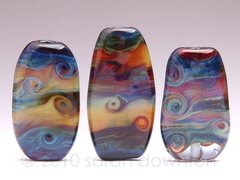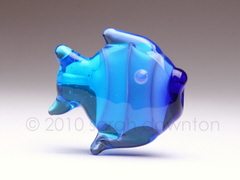 Contemporary glass beads, jewellery and lampwork glass beadmaking tuition
Welcome to my website.

Here you can browse in my gallery and you can shop for my lampworked glass beads & jewellery. All my work is individually handcrafted by me in West Sussex.
I am one of the few glass beadmakers and lampworking teachers in this country. I make my glass beads using traditional lampworking techniques but with modern equipment in my dedicated glass studio. I use the finest Venetian, German or American glass to make the beads and pair them with sterling silver. Lampworking is the process of melting coloured glass rods around a steel mandrel using a high temperature flame. The beads are then annealed in a digitally controlled kiln over many hours for durability.

Please email me for details about lampworking tuition or if you would like to buy any of the beads or jewellery you have seen on my site, or if you would like a bead made especially for you.
Next Events...................
***Sunday 26th May 2013 - The Beadwork Fair, Denbies Wine Estate, London Road, Dorking, Surrey, RH5 6AA. 10am - 4pm***
***Weekend 15th/16th June 2013 - Horsham Artists in Action at Sedgwick Park House, Horsham, West Sussex, RH13 6QQ. 10am - 5pm***
***Weekend 22nd/23rd June 2013 - Horsham Artists Open Houses, Oakhurst, Pondtail Drive, Horsham, West Sussex, RH12 5HY 10am - 5pm***

***Sunday 21st July 2013 - The Beadwork Fair, South of England Centre, Ardingly, West Sussex, RH17 6TL. 10am - 4pm***

please see my events page for more details

Next Courses
Dates for the new year now available
***Thurs 2nd May 1 Day Beginners Glass Beadmaking, 10am - 5pm***
My work is available at the bead fairs listed on the events page and in a few outlets.
Please check out my Beadlog (blog) for my latest news and ramblings.

News:
Thu 17 Jan 2013 - New Events for the New Year

I have updated my events page with details of the shows I am doing so far this year.

Sunday January 20th is the Beadworks Fair at Ardingly, West Sussex, and I will be there with my new designs for the spring and Valentines Day. I will also have popular favourites, many bargains and my popular rummage pots restocked with lots of lovely colourful beads. New Big Hole Bead sets, uncored beads make good value gifts for you or a friend. This fair I will also have my Cloud Beads with their silver linings available, before they are returned to the Surrey Guild Gallery at Milford, near Godalming, Surrey. I will have a selection of sterling silver chains also, with some heavy snake chains suitable for my Big Hole Beads and Cloud Beads. As it's January I will have a bowl of sale bargains too, including lovely focal beads and bead sets, all first quality. We look forward to welcoming you to this fair.

The Big Bead Show has it's spring event on Saturday 6th April, and I will be in my usual spot near the food hall and Bead magazine area.

For details of these events and my other shows this year, please see my events page


Wed 18 Jul 2012 - Beadworks summer fair at Ardingly

My next event is this coming weekend, Sunday 22nd July,at the South of England Centre in Ardingly, West Sussex, RH17 6TL, 10am to 4pm. More details on my events page.


I've been trying to get the summer spirit by making some new beach beads and fish in the hope that the sun will come out. I will have my usual mix of glass bead sets and focal beads, with several new designs, silver chains, and my ever popular rummage pots, with bargains starting at £1. I also have some new uncored Big Hole Bead sets, perfect for filling up your Pandora, Troll or other similar charm bracelet. I may even put more beads in my sale dish, who knows!

Do come and say hi.
Looking for old news?
Click here for the News Archive
---